Scale your personal and professional development by forging a signature style and wardrobe that perfectly reflects your core values, goals, and brand image.
— Streamline your wardrobe and direct your attention to giving back to your friends, family, and ambitions — all with less effort.
Project your worth and find time and energy.
Create a signature style that serves your success.
Nail your look and set yourself at the forefront of your field.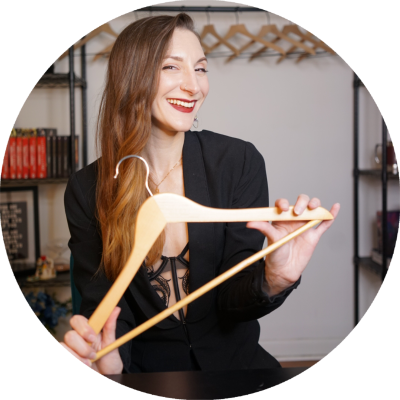 Professional
Wardrobe
You mean business. In the realm of effective communication, your style is a powerful tool to build confidence and affect how others perceive you.
— Whatever you feel, you show, and whatever you show, others feel. It's time to conquer your clothing and maximize your impact by demanding to do less.
Your chef prepares and delivers healthy meals your family and doctor approve of.
Your trainer designs a workout schedule and maintains accountability for your fitness goals.
Your assistant tracks your appointments and makes tedious communication tolerable.
Your housekeeper maintains your home's cleanliness, tidies rooms, and manages your residence.
Your personal stylist shops and curates outfits that reflect your professional vision and personal expression.
From first-class to fine-dining with your family — presenting to being present with your friends — and branding shoots to beach-front vacations. Having a personal stylist on your team means you can focus on what matters most.
Styling
process
---
Session Zero

Session Zero is a foundational discussion about your style history, the styles, textures, and accessories you love and hate, and how you want your identity to be represented through your clothing.

We'll explore your style icons, define your style keywords, and develop a visual style board that we can reference throughout your service.

Also, as we discover more about your likes and dislikes, we'll update your visual style board to reflect these changes.
Closet Cleanse

Closet Audit

The Closet Audit is where we examine your wardrobe and check whether or not your clothes support your goals.

Function, Flatter, Fit

Function. Your clothes must serve your lifestyle. Buying and owning things you have no use for distracts you from growth.
Flatter. You must love yourself in your clothes. We don't care how much money it was, the brand name, or who gifted it to you.
Fit. Too big? Too small? It's tailored or gone. Your clothes must fit your current body, not your ideal body or your future body.

This process can be a time and energy drain, so we'll make sure to pace ourselves, relax, and take breaks.

Closet Edit

The Closet Edit is where we process your wardrobe and make hard decisions about what to keep, alter, and cut.

Keep, Alter, Cut

We'll keep sentimental items and keepsakes for as long as you need, displaying them with care.
We'll schedule alterations and another try-on-session for items you love and want to wear.
We'll cut things not worth your money, time, energy, space, or that make you feel bad or guilty.

We'll try and repurpose your unwanted items, either through consignment, donation, or gifting.
Closet Creation

The Closet Creation is where we decide on new clothing and accessories to add to your wardrobe. These pieces will help round out your closet's shortfalls and holes.

Shopping Options

Online: We provide a board of hand-picked pieces for you to order at your convenience.
In-person: We select stores that align with your needs and that we're excited to shop at together.
Virtual: We select outfits from stores near you and support you virtually while you shop.
Personal: We'll do the shopping for you, and you'll receive your orders directly to your doorstep.

When we're done shopping and your orders arrive, we will have a try-on session to assess our progress.
Closet Curation

The Closet Curation is where we photograph and catalog your wardrobe. We'll include clothes, accessories, shoes, and jewelry to create a digital closet full of looks that you love!

Curation Options

In-person: We help you take pictures and upload them to your digital closet.
Virtual: We support you virtually through your preferred support method.

This process can be a time and energy drain, so we'll make sure to pace ourselves, relax, and go at your pace.

60+ New outfits in your digital closet
Styling
pricing
12-month
 styling to consistently align and elevate your success
Prestige Edition
Maxi Moda
1-to-1 Image Consulting
12-Month Gold Support
4 Seasonal Closet Cleanses
4 Seasonal Closet Creations
4 Seasonal Closet Curations
60+ New Outfits
12-month
full-service styling for an exclusive and all-inclusive experience
Definitive Edition
Maxi Moda
1-to-1 Image Consulting
12-Month Gold Support
Unlimited Closet Cleanses
Unlimited Closet Creations
Unlimited Closet Curations
60+ New Outfits
Prestige Edition
Great for starting your everyday and professional brand-style journey.
Prep and organize effectively to stave off decision fatigue.
Ideal for professionals who want to find or enhance their brand style.
Definitive Edition
Great for growing your everyday and professional brand style on an open and ongoing basis.
A stylist on your team so you can focus on what you love and connect with your audience effortlessly.
Ideal for professionals with ongoing special occasions, live and virtual events, photoshoots, on-set obligations, and travel opportunities.
+$500 half-day on-set — 4 hours.
+$900 full-day on-set — 8 hours.
Travel expenses are not included.